The Aquia Episcopal Church Cemetery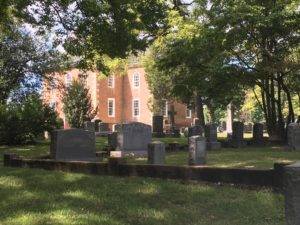 The Aquia Church Cemetery is among the oldest cemeteries still in use in Stafford county with the first recorded burial, of Hannah Maines, taking place in 1838. Owing to the development of Stafford county over its history, many small family cemeteries were also moved to Aquia over the years.  The oldest known tombstone is that of Elizabeth Simson, which dates to 1698.
The graves of Vestryman John Peyton, Anne Waye Peyton, Elizabeth Rowzee Peyton, and Eliza Peyton were all moved from "Stony Hill", the Peyton home, to Aquia Church Cemetery around 1936. In July 1943, the graveyard from Alexander Scott's home, "Dipple" (which was on the Potomac River just south of Choppawamsic Creek) were moved to the Aquia Church Cemetery when the area was annexed by the U.S. Marine Corps. The "Somerset" graveyard (52 graves) was moved to Aquia Church Cemetery around the same time. "Somerset" was the home of the first John Moncure. Margaret Hedgman was moved from "Rose Hill" (near Marlborough Point) to Aquia Church Cemetery in 1943. Mauell Norman was moved from near Ramoth Church to Aquia Church Cemetery in 1967.
A few notable graves include:
Rev. Alexander Scott (1686 - 1738) -- Early rector of Aquia Church and Overwharton Parish (1711 to 1738), Presbyter of the Church of England
John Peyton (1691 - 1760) -- Member of the House of Burgesses and served in Governor Alexander Spotswood's Knights of the Golden Horseshoe Expedition. Early Vestryman of Aquia Church
Rev. John Moncure (1747 - 1784) -- First Rector of Aquia Church's current building; buried with his wife under the chancel.
Rev. Jaquelin Marshall Meredith (1833 - 1920) -- Rector of Aquia Church and Chaplain of the 47th Virginia Mounted Infantry. Gettysburg Veteran
Maj. John Mason Lee (1839 - 1924) -- Brother of General Fitzhugh Lee and nephew of Robert E. Lee
Dr. Kate Waller Barrett (1857 - 1925) -- Women's and Social Pioneer; instrumental in the creation of the Historic Fredericksburg Foundation and George Washington Foundation.
Rev. John Moncure (1857 - 1881) -- Archdeacon, Richmond Va. Notable for outreach in the African American community on behalf of the Episcopal Church.
A listing of graves may be found on our Plots of Graveyard Burials page. 
Cemetery Photos