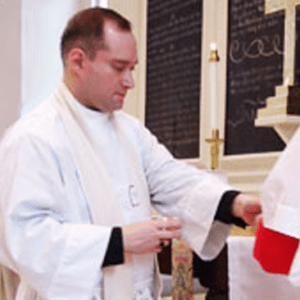 The Rev. Jay Morris - Rector
The Rev. Jay Morris, originally from Siler City, North Carolina, was called as Rector of Aquia Church in March 2013 after serving at Aquia Church in other clergy positions since 2004.
Passionate yet calm, learned yet plainspoken, Fr. Morris is a man with a vision for Aquia Church in our community.
Morris received a Masters degree in Religious Studies and was working toward a PhD in Philosophy at the University of Virginia prior to his being called to ordination. Like many students, he enjoyed (and still enjoys) watching college football and basketball, attending concerts, reading, using the Internet, and even cooking.
Fr. Morris hopes to focus on how we can "live as Christians, faithful to God in a world where we find ourselves distracted by many things." The question Fr. Morris poses is, "How do we live, raise kids, stay connected to families, to each other and to God through all the changes we face?"
To find the answer, he says, we must set priorities in life, know who we are and who we ought to be, and especially, to understand what is going on in the Bible, which he referred as as "living and breathing, not just some ancient document from long ago that we dust off for Sunday worship services." Ultimately, he wants to help people to "trust God across a lifetime" through good times and bad, quiet and busy, confusion and clarity. As we all travel this journey, Fr. Morris hopes we will encourage others to set foot in Aquia Church to find God's blessing. He believes that such a good thing is something that we cannot keep to ourselves.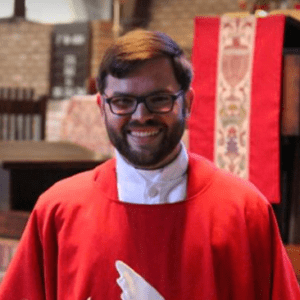 The Rev. James Rickenbaker - Assistant Rector
The Rev. James Rickenbaker was called to be the Assistant Rector of Aquia Church beginning in June 2016. Fr. Rickenbaker is originally from Spartanburg, South Carolina, and came to Aquia Church by way of the Diocese of East Carolina's (St. Paul's, Edenton, NC) sponsorship of him in seminary.
Fr. Rickenbaker graduated from Appalachian State University in Boone, NC in 2012 with a B.A. degree, having double majored in Spanish Language and Religious Studies. Fr. Rickenbaker graduated from the Virginia Theological Seminary in May 2016, to begin at Aquia soon afterward. His interests include watching sports (Carolina Gamecocks, Carolina Panthers, and the Pittsburgh Steelers to name a few), reading, and teaching Scripture.
Throughout his tenure, Fr. Rickenbaker desires to help strengthen the people of Aquia Church to participate in the mission of God in Stafford County. This means teaching them who God is and how He is revealed to us perfectly in the God-man Jesus Christ. Fr. Rickenbaker keeps at the heart of his ministry I Cor. 2:2: "For I determined to know nothing among you except Jesus Christ and him crucified." And, he hopes that this message will be clearly conveyed in his words and actions at Aquia, always and only to the glory of God. 
Fr. Rickenbaker is married to The Rev. Rachel Rickenbaker.